The 2019 Induction Ceremony for the Cleveland International Hall of Fame was held on April 16, 2019 in the Grand Ballroom of the Marriott at Key Center.
Channel 19 news anchor Chris Tanaka served as MC for the induction of the 2019 class of the Cleveland International Hall of Fame.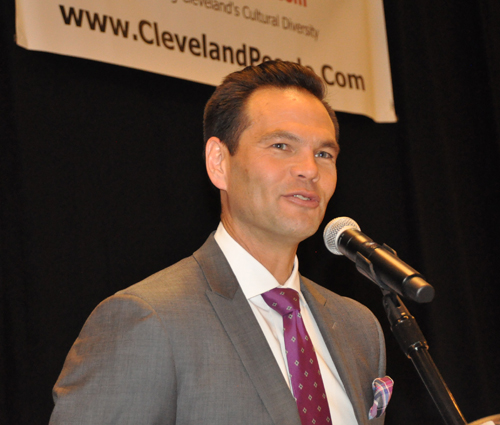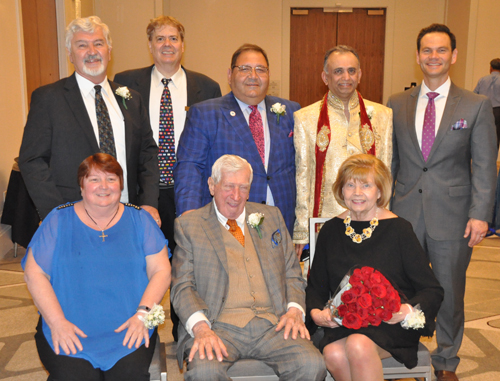 The Cleveland Firefighters Honor Guard posted the colors at the Cleveland International Hall of Fame induction ceremony.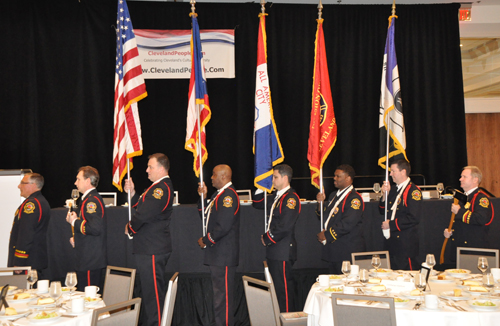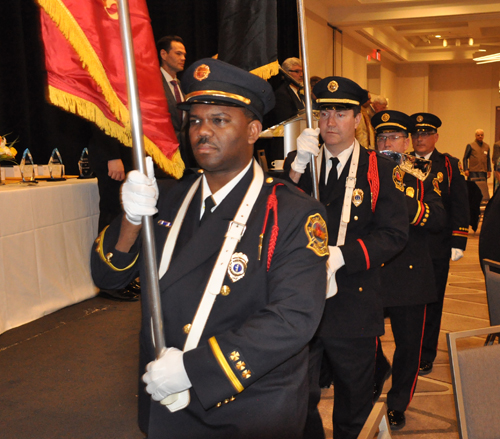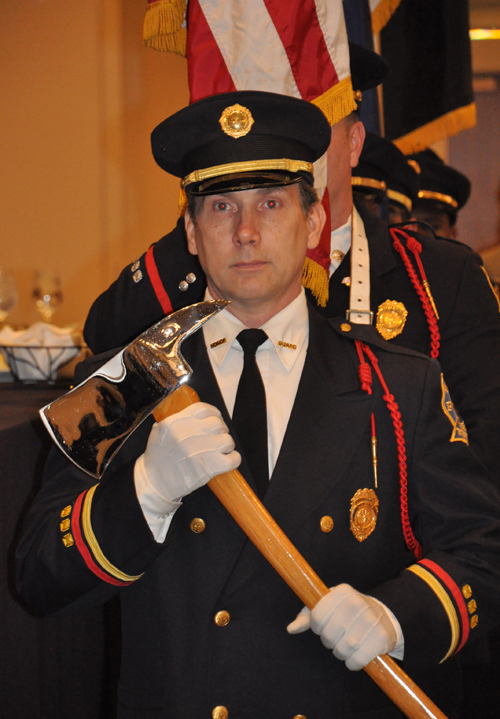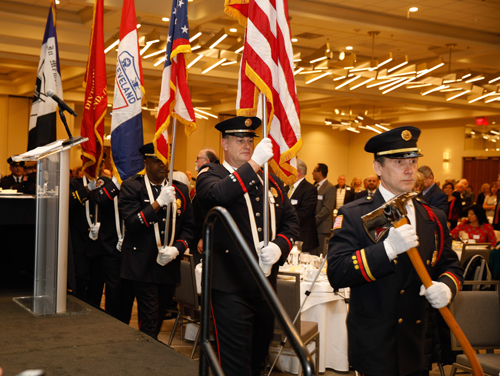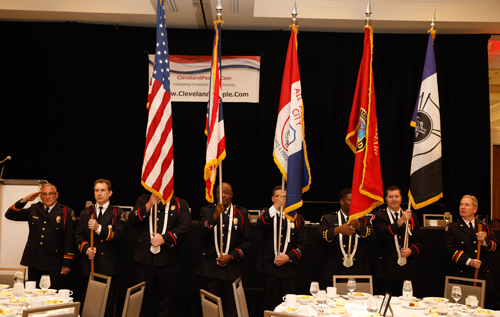 Giovanni Castiglione led the singing of the national anthem.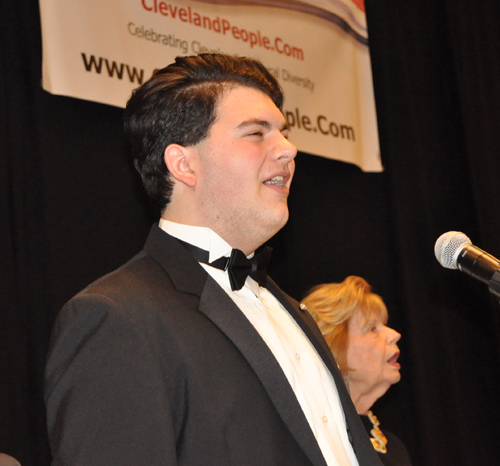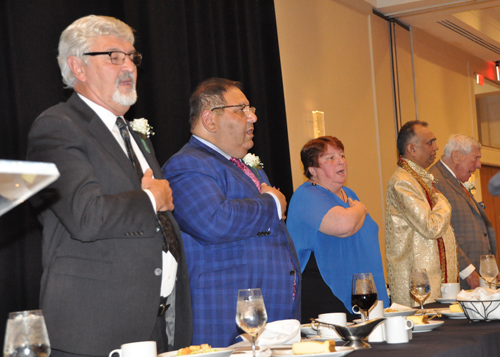 Click on the white arrow below to watch the video of the Cleveland Firefighters Honor Guard, national anthem and welcome by Master of Ceremonies Chris Tanaka, news anchor of Channel 19.
After a welcome, Chris introduced Cleveland International Hall of Fame co-founder Dan Hanson. Dan told the story of the 6 inductees in the Cleveland Cultural Gardens and thanked Chris Tanaka for his role in the community.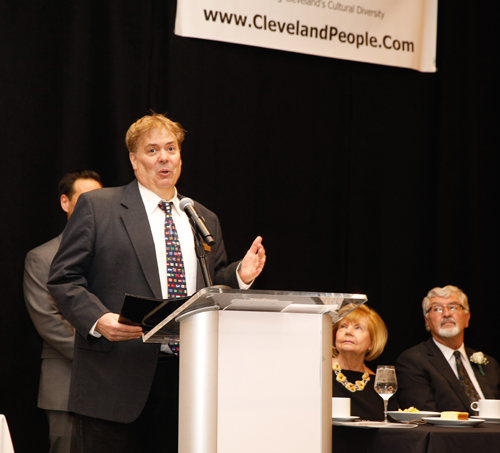 Before dinner was served, Chris Tanaka introduced Sreedhara Sree, a Hindu priest at Shiva Vishnu Temple, who offered a brief prayer and blessing of the food.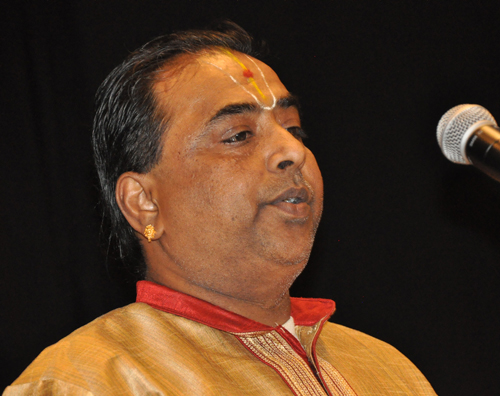 Because it was the 10th anniversary of the Cleveland International Hall of Fame, after dinner Dan Hanson recognized members of the inaugural Class of 2010. He gave a brief mention of the 13 inductees of the 2010 inaugural class featuring Jenny Graselli Brown, Dr. Dieu Thuc Do, Robert Haas, Helen Karpinski, Alex Machaskee, Lonnie McCauley, Irene Morrow, August Pust, Paul Sciria, Paramjit Singh, Senator George Voinovich, Leo Weidenthal and Margaret Wong.
Then Chris Tanaka introduced the 2019 class in alphabetical order. Click on the name to go to a page with photos and videos of the induction speeches for each member.
Dr. Akram Boutros inducted by County Executive Armond Budish
Ingrida Bublys inducted by Alex Machaskee
Paul Burik inducted by Chris Ronayne
Richard Fleischman inducted by Ernie Mihaly
Marilyn Madigan inducted by John O'Brien Jr.
Sree Sreenath inducted by Ramesh Shah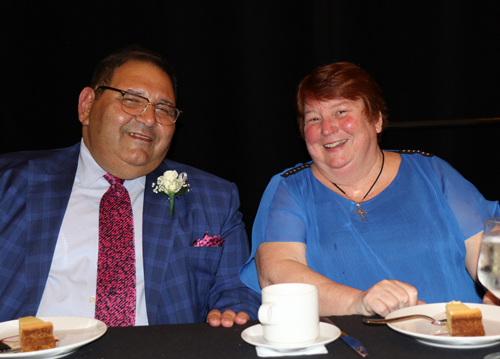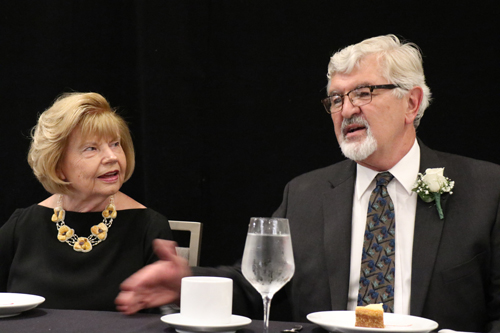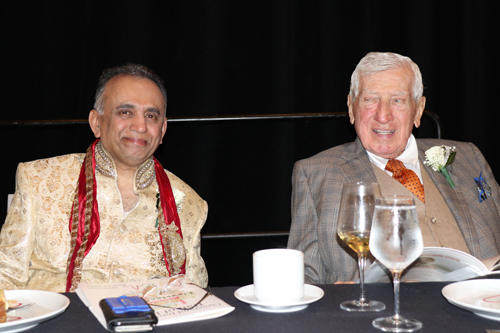 Along with a letter from both Senator Sherrod Brown and Senator Rob Portman, inductees received proclamations from Governor Mike Dewine, Attorney General Dave Yost, Congresswoman Marcia Fudge, Cleveland Mayor Frank Jackson, Cleveland City Council, Cuyahoha County Executive Armond Budish, State Senator Matt Dolan and State Rep Tom Patton.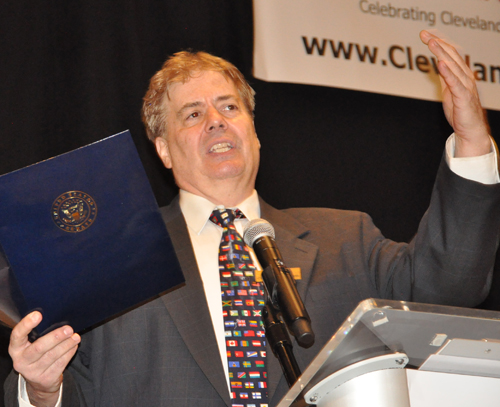 After the inductions, Dan Hanson led the traditional toast to 2019 Class of the Cleveland International Hall of Fame.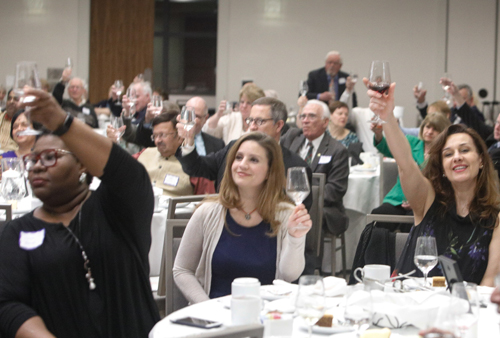 Before the new class gathered for their class picture, Dan Hanson thanked Chris Tanaka for serving as Master of Ceremonies for the 2019 Cleveland International Hall of Fame induction ceremony. Chris then thanked Dan and Debbie Hanson and closed the evening.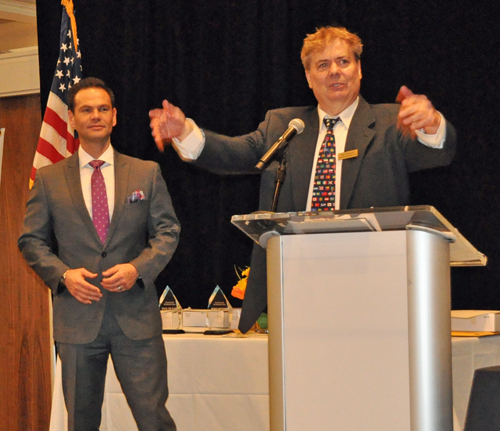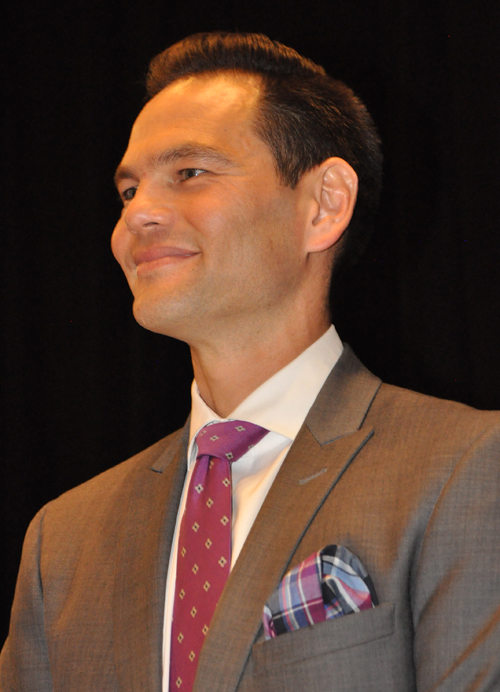 After the traditional class photo, some inductees from earlier classes joined the group.