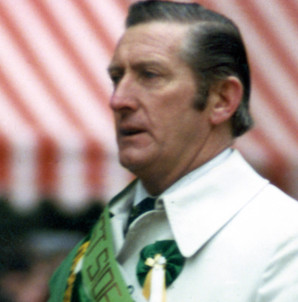 Steve Mulloy
When Stephen L. Mulloy arrived in Cleveland in May 1954 to start a new life thousands of miles from home, he was lucky enough to have three aunts and an uncle to welcome him to West Park. He also had a strong Irish community that helped him settle, get work and find his place in this city far different from the fishing villages of his native Achill Island, off the rugged coast of Ireland's County Mayo.
Steve would spend the rest of his life paying that hospitality forward to not only his fellow Irishmen and women, but to his entire adopted city as well.
Steve spent 40 years as a member of Building Laborers Local #310, and with his wife, fellow Achill-native Anne O'Donnell, raised nine children on Cleveland's West Side and in North Olmsted.
Steve began serving the Irish community here from his arrival, quickly becoming a member of the West Side Irish-American Club and volunteering on a variety of committees. He served several terms as a club trustee and was its president four different times. Steve was also a proud supporter and member of the Irish-American Club East Side and the Irish Heritage Club – but "The I.A." was his home; the West Side club honored Steve's decades of service by naming him Man of the Year in 2000.
Steve also gave his time to a long list of volunteer organizations. In his early years here he played with St Patrick Gaelic Football Club and was a member of the Shamrock Pipe Band when it won the All-American Pipe Band Award in 1957 at New York's Iona College. He was a founding member of the Mayo Society of Greater Cleveland, the Cleveland Branch of the Irish National Caucus and St. Jarlath Gaelic Football Club; an officer with Irish Northern Aid and an active member of the Ancient Order of Hibernians.
As a delegate to the United Irish Societies for nearly 35 years, Steve helped organize Cleveland's annual St Patrick's Day Parade, serving as Executive Director from 1983 through 1986.
Steve became known for singing the Irish and American national anthems at ceremonies before each St. Patrick's Day Parade until lymphoma hampered his vocal cords; the U.I.S. chose him as Grand Marshal of the 2007 St Patrick's Day Parade. In 2008, the Mayo Society of Cleveland named Steve its Man of the Year.
Steve also organized funding drives for several Achill charities and organizations, including the Achill Ambulance and Achill Assisted Living, holding meetings and mail-stuffers in the family living room – the same living room upon whose couch and floor many newcomers from Ireland spent sleeping their first night in America.
Through all of Steve's activities, helping others was his overarching goal. He organized fundraisers not only for causes like the Little Brothers & Sisters of the Eucharist and the St Augustine Church Hunger Centre, but also for individuals and families who found themselves in crisis.
In 2003, Steve persuaded then-Mayor Jane Campbell to join him in leading a delegation to Mayo to oversee the official twinning of Cleveland and Achill Island. An overwhelming number of Cleveland's Irish immigrant community has Achill roots.
Through all those years of work and sacrifice for family and community – and fighting the illness that eventually took him from us – Steve quietly drew strength from his Catholic faith. He was an example of selflessness and ethnic pride. And he loved this city as much as his beloved Ireland.