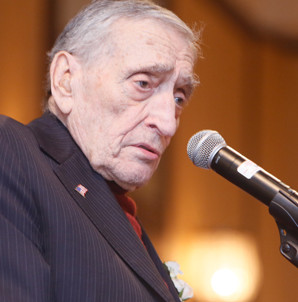 Samuel H. Miller
Samuel H. Miller is co-chairman emeritus of Forest City Enterprises, Inc.
A key stakeholder since 1947, Miller has overseen various areas of Forest City. He is particularly credited with spearheading the Company's move into land development. Miller has served as treasurer since 1992. He was named chairman of the board in 1993, and was joined by Albert B. Ratner as co-chairman of the board in 1995.
In addition to his commitment to Forest City, Miller is actively engaged in the Cleveland community and is a nationally recognized leader in the Jewish community. Miller has served on the board of trustees of the following organizations: WVIZ, Urban League, Jewish National Fund, Baldwin-Wallace College, Crime Stoppers, Police Memorial, Medical Mutual of Ohio, Cleveland State University, Notre Dame College, the Catholic Diocese of Cleveland Foundation and John Carroll University.
In addition, Miller is a Lifetime Honorary Trustee of the Jewish Community Federation of Cleveland and National Conference of Christians and Jews, and an Honorary Trustee of Case Western Reserve University. He also participates in the Greater Cleveland Roundtable and serves on the board of directors and executive committee of The Cleveland Clinic. In 2003, he was made a Distinguished Fellow of The Cleveland Clinic Foundation.
Miller is a graduate of Case Western Reserve University, and has an MBA from Harvard Business School. He served in the U.S. Navy from 1942 to 1946.
Nacy Panzica
Nacy Panzica has been in the construction industry for over 60 years. Through his guidance and leadership, Panzica Construction Company has grown from simple residential remodeling projects to what it is today, a multi-million dollar construction company.
Panzica Construction Company has earned an enviable reputation for delivering the finest craftsmanship to an impressive list of challenging and rewarding ventures.
Some of Nacy's affiliations include:
• Arthritis Foundation of Greater Cleveland – 2002 Community Leader of the Year
• Catholic Charities Corporation – Trustee
• Help for the Retarded, Inc. – Board Member 1977 to 1985
• Alhambra for Retarded Children
• Cuyahoga Community College – Trustee 1980 to 1986
• St. Augustine Manor – Trustee
• Ellis Island Recipient 2003
• Cystic Fibrosis Foundation