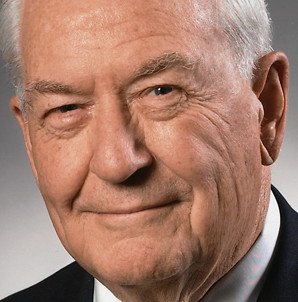 Dick Pogue
Richard W. ("Dick") Pogue is Senior Advisor (i.e., full-time independent consultant) at Jones Day in Cleveland, Ohio. A graduate of Cornell University (1950) and the University of Michigan Law School (1953), he served three years (1954-1957) in the Patents Division, Office of The Judge Advocate General, United States Army, in the Pentagon, and left with the rank of Captain. He holds Honorary Doctorate degrees from the University of Akron and the Cleveland Institute of Music. In 1972 he served for six weeks in the White House as a consultant on antitrust policy.
Mr. Pogue joined the law firm Jones, Day, Cockley & Reavis in Cleveland as an Associate in 1957, and became a Partner in 1961. Over the years his primary fields of practice were antitrust, corporate takeover work, and commercial arbitration/mediation. On 3/1/84, he became Managing Partner of the Firm, by then known as Jones, Day, Reavis & Pogue. During his nine years (1984-1992) in that position, the Firm grew from 335 to 1,225 lawyers and from five domestic to 20 worldwide offices, and became the second largest U.S. law firm. Today Jones Day has over 2,500 lawyers in 41 offices around the world.
On 6/30/94, Mr. Pogue retired from Jones Day and became Senior Advisor to (and a Director and major shareholder of) Dix & Eaton, a Cleveland-based regional public relations firm. Then on 1/1/04, he returned to Jones Day in his present capacity, where he assists the Firm's Managing Partner (Stephen J. Brogan) and its Cleveland Office Partner-in-Charge (Christopher M. Kelly) and others in client development, special projects, and civic engagement.
Over the years Mr. Pogue served as a Director of various companies, including Continental Airlines, Derlan Industries (Canada), M.A. Hanna Co. IT Group, KeyCorp, Ohio Bell Telephone Co., Redland PLC (England), Rotek Incorporated, and TRW.
Mr. Pogue has chaired many major organizations in the civic arena in Cleveland and Northeast Ohio (including The Cleveland Foundation, Business Volunteers Unlimited, University Hospitals Health System, the Greater Cleveland Growth Association ("GCGA"), The City Club of Cleveland, the Presidents' Council Foundation, The 50 Club, Kulas Foundation, the Greater Cleveland Chapter of the American Red Cross, and the successful $51.9 million United Way Campaign in 1989). He was the principal organizer in 1997 of the Regional Business Council, the predecessor of Team NEO, a Regional marketing group serving the 16-county Northeast Ohio Region. As Co-Chair he just completed a $30 million campaign to revive the Gordon Square Arts District on the near west side of Cleveland.
He chairs the Advisory Committee for the (Ralph) Regula Institute at Mount Union University; and is a member of three Columbus-based organizations: (i) the Ohio State Bar Association Committee to preserve and promote the legacy of the late Ohio Chief Justice Thomas J. Moyer; (ii) the Access to Justice Task Force appointed by Ohio Supreme Court Justice Maureen O'Connor; and (iii) the Ohio Legal Assistance Foundation.
He has been active in the field of Higher Education: (a) He became a Trustee of the University of Akron in 2004 and has served as Chairman of the Board since 7/1/12. (b) A Trustee Emeritus of Case Western Reserve University, he is currently a Trustee of both the Cleveland Institute of Music (where he co-chaired a successful $40 million Capital Campaign) and the Northeast Ohio Council on Higher Education (of which he served as Interim Executive Director in 2001). (c) In 1993-94 he designed and taught a course as Visiting Professor at the University of Michigan Law School entitled "The Business of Law." (d) In 2003-04, he chaired the (Ohio) Governor's Commission on Higher Education & the Economy ("CHEE"), a 33-member group of business leaders, college presidents, and State government officials, which publicly reported on 4/29/04 a number of major recommendations relating to Higher Education's role in the State's economic development. (e) This led to his 2005-06 activity in helping the Ohio Business Roundtable to organize the (Ohio) Business Alliance on Higher Education & the Economy ("BAHEE"), a group of active and retired CEOs, to carry on some of the work of CHEE. (f) Since 2007 he has served as the (first) chair of the Dean's Advisory Council at the University of Michigan Law School.
In 1930, as a two-year-old, he spent a year in Paris while his father assisted Ropes & Gray, a Boston-based law firm, in opening an office there. As Jones Day's Managing Partner, Mr. Pogue led the Firm's entry into international practice, beginning 1/1/86; during his stint the Firm opened overseas offices in London, Paris, Riyadh, Geneva, Hong Kong, Brussels, Tokyo, Taipei, and Frankfurt.
As Chairman of the GCGA he co-founded the Greater Cleveland International Trade Alliance, which acquired World Trade Center status. For several decades he has been a member of the Council on Foreign Relations. At the Cleveland Council on World Affairs ("CCWA") he chairs the Global Impact Award Committee and the CCWA Foundation.
Mr. Pogue and his wife Pat have lived in Shaker Heights, Ohio since 2/1/57. They have three children (Mark – Providence, RI, Tracy – Manhattan, and David – Westport, CT), and eight grandchildren.