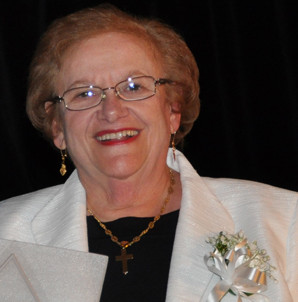 Hon. Mary Rose Oakar
Hon. Mary Rose Oakar, received her B.A. at Ursuline College, M.A. at John Carroll University, studied at Westham Adult College-Warwickshire, England, and had further study at Cleveland-Marshall College of Law. She has also received numerous Honorary Doctorate Degrees of Law and Humane Letters from various Academic Institutions.
Ms. Oakar has served in all three legislative branches of government as a Member of Cleveland City Council, Member of the Ohio House of Representatives, and 16-year Member of the United States Congress representing Cleveland, Ohio and 16 Suburbs. Currently, Ms. Oakar was elected and serves on the Ohio State Board of Education representing District 11 (Cuyahoga County).
In the U.S. Congress, Ms. Oakar was a Member of the U.S.House of Representative's Leadership as Vice-Chair of the Democratic Caucus. In addition, she served as a Member of the North Atlantic Treaty Organization as a U.S. Parliamentarian. While in the U. S. Congress, she Chaired several important committees including the International Banking Committee, which oversaw the IMF, the World Bank, and the Multi-Lateral Financial Institutions. In addition, she served on the Housing Committee, which included oversight of Historic Preservation.
She has received numerous awards while in Congress including being named "one of the 10 best Members of Congress for health and women's issues" by McCall's Magazine and "one of the 10 best Legislators in Congress" by Jack Anderson's 50 Plus Magazine. She also received the "Legislator of the Year Award" from the Consumer Federation of America. She is well known for her legislative work with cancer prevention and has won "The American Cancer Society Distinguished Service Award for Legislation", "The Susan G. Komen Foundation Community Service Award", and the "American Cancer Society District of Columbia Chapter Legislative Service Award". She was also granted "The Breast Cancer Awareness Award" from The National Women's Health Resource Center and Columbia Hospital for Women, Betty Ford Breast Cancer Center, and "The Legislative Leadership Award" from The Fox Chase Cancer Research Center. In addition, her legislative work in drug and alcohol treatment and prevention was recognized by the National Association of Addiction Treatment Providers, "The Legislative Leadership Award" and the National Association of Alcoholism and Drug Counselors for the "Legislator of the Year Award."
In addition, during her Congressional career, she was also recognized by "The American Nationalities Movement Award" and the "Nationalities Service Center Leadership in Congress Award" for her support and assistance to immigrants of all backgrounds. She was recognized for her commitment to the elderly and received "The Excellence in Public Service Award" from the Alliance for Aging Research and "The Claude D. Pepper Award" for Work on Aging Issues from the National Association for Homecare. Ms. Oakar was appointed by President Clinton to be a Member of the 25-Member Advisory Board for the White House Conference on Aging.
Finally, she is well known for her work on Peace and Justice and received numerous awards for her work on Central America and the Middle East from varieties of organizations, and was appointed by Vice President Gore to the Board of Builders for Peace and Economic Development in the Middle East. She also served as a Monitor for the Palestinian and Czechoslovakian Elections. She attended Middle East peace signings at the White House, and was one of several individuals appointed to accompany President Clinton to the Peace signings in Egypt and in Jordon. After the peace signing between Israel and Jordan, she accompanied President Clinton to Syria aboard Air Force One.
In addition to being an Educator, and having served in public office, Ms. Oakar was National President of the American-Arab Anti-Discrimination Committee (ADC) for six and one half years. ADC is a nonprofit, non-sectarian, non-partisan, grassroots Civil Rights Organization, founded 30 years ago. ADC works in coalition with other organizations such as the U.S. Leadership Conference, NAACP, ADL, and Hispanic, Asian and other nonprofit Civil Rights Organizations to champion legislation to fight hate crimes, efforts to end racial profiling, and protecting Civil Liberties and Civil Rights.
In addition, Ms. Oakar has been a Professor of English, Speech, Drama and Government at Cuyahoga Community College, and has taught at East High School, Lourdes Academy, Ursuline College, graduate courses at Cleveland State University, and courses for the Elder Program at Cuyahoga Community College. Ms. Oakar has lectured at various academic institutions, legal forums and seminars throughout the United States. She also hosted her own television and radio shows entitled "Issues Today" and "Senior Forum."