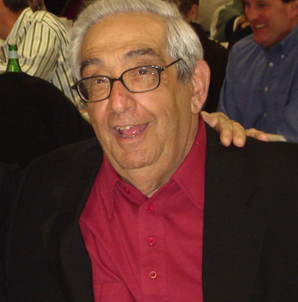 Paul Sciria
Born to Sicilian immigrants, Angelo and Felicia Sciria, on November 3, 1928, Paul Angelo Sciria was welcomed to the world in their family home at 151st and Kinsman. He grew up in the Kinsman area where he attended A.J. Rickoff Elementary, A. Hamilton Junior High and John Adams High School. He attended The Ohio State University for college. And was also a member of the ROTC.
Following his OSU days, Sciria attended the Marshall School of Law. At the same time, he was working at City Hall and Paul realized his love for police reporting. In between the beginning of this special career in his life and today came the love of his life, Francesca ("Franca"), three sons, two daughter and nine grandchildren.
In 1992, Sciria acquired LA GAZZETTA ITALIANA, becoming the paper's main writer, editor and advertising and subscription salesperson. Paul has been the voice of the Italian American community and, as anyone who's ever gone out to lunch with him knows, has many admirers who appreciate what he does every month with LA GAZZETTA and for the Italian American community.
Paul says, "I am so proud to live in the best of two worlds. I am totally gratified to be an American and particularly proud of my Italian roots. I don't know who said it but he was right-on when he said America was discovered by Italians, named by Italians, explored by Italians and a large part built by Italians. And yet so many Italians are defensive of their heritage instead proud of it. For thousands of years Italy has been the cultural leader in the world but you would never know it based on the communications business which continues to lead with stories that Scorcese and Coppola created not so much for entertainment but for wealth.
They didn't profile a John Basilone who won the Congressional Medal of Honor and Navy Cross – an American Italian Douglas MacArthur called a one man army – or an AP Giannini – the son of poor immigrants who founded one of the most successful institutions in the world…the Bank of Italy…who revolutionized banking and transformed the west. Look to every aspect of greatness – art – music – literature – industry – language – even the declaration – that all men are created equal – and Italian influence is there.
I've played such a minor role – because other Italians gave me the opportunity to create and help me to add a few thousand words in sustaining a monthly newspaper – now in its 19th year La Gazzetta Italiana – to participate and help coordinate a Columbus Day Parade in Little Italy – and partake in a minor role the great achievements and contributions of a Northern Ohio Italian American Foundation (NOIA).
Italians have contributed more than their share to the fabric and well being of our society and without our contributions, influence and inspirations…the world would be a much poorer place."