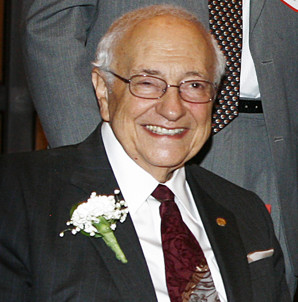 Milton Maltz
Milton Maltz founded Malrite Communications Group, Inc. in 1956 and served as its Chairman and CEO until the Company was sold in 1998. Under his direction, Malrite became one of the most successful operators of radio and television properties in the country with stations stretching from New York to Los Angeles.
Mr. Maltz began his career in broadcasting as a kid actor in radio dramas originating in Chicago and also appeared in a number of television broadcasts during that medium's infancy. Over the years, he has worked in all aspects of the broadcast industry, including news and management. Mr. Maltz wrote, produced and directed "The Fight for Freedom", a series of radio dramas reflecting the struggle for the creation of the State of Israel.
As a respected and active member of the broadcast industry, and a member of its Hall of Fame, Mr. Maltz created the National Association of Broadcasters' Task Force for Free TV, served on its Political Action Committee and was a Director of the Radio Advertising Bureau and Vice-Chairman of the Independent Television Association. In 1998, Mr. Maltz was the recipient of the University of Cincinnati's distinguished Frederic W. Ziv Award for outstanding achievement in telecommunication.
Mr. Maltz is active in numerous philanthropic and civic organizations including the Cleveland Orchestra, Case Western Reserve University's new performance center, the Lieber Institute for Brain Development located on the campus of John Hopkins Hospital, PLANNED Life Assistance Network, the Cleveland Play House, the Jewish Federation of Cleveland, the Anti-Defamation League, the State of Israel Bonds, the Cleveland Clinic Foundation and the Bascom Palmer Eye Institute. He was instrumental in bringing the Rock and Roll Hall of Fame & Museum to the city of Cleveland.
Today, Mr. Maltz is using his years of entertainment experience and expertise to develop distinctive entertainment projects around the country. A highly acclaimed project is the International Spy Museum in Washington, DC. The Museum has achieved international fame. Mr. Maltz received a letter from President George W. Bush commending the Museum for contributing to America's understanding of the importance of intelligence as a principal component of national security. He currently serves on the Board of the CIA Officers Memorial Foundation.
Mr. Maltz and his wife Tamar revived the Playhouse in Jupiter, Florida (formerly the Burt Reynolds Dinner Theater), considered one of Florida's prominent regional theatres. Milton serves as Chairman of the Board. The award-winning Theatre, now known as the Maltz Jupiter Theatre, opened on February 29, 2004.
Mr. and Mrs. Maltz are founders of the Maltz Museum of Jewish Heritage located in Beachwood, Ohio.