Joe Valencic
Joseph Valencic is a dynamic and creative presence within Cleveland's Slovenian-American scene. His enthusiasm for all things Slovenian inspires others to discover and celebrate the uniqueness of their own cultures. Joe sees the commonalities and synergies between Slovenian organizations in Cleveland, across the United States, and in Slovenia. He engages groups to build upon their strengths, attract volunteers, and develop programs and exchanges for mutual benefit. He believes culture, especially music, can build bridges between people of all backgrounds.
Joe's involvements have had a positive impact on the city's cultural profile. He is a founder and past President of the National Cleveland-Style Polka Hall of Fame, which showcases the style of American dance music that emerged from the city's Slovenian and nationality neighborhoods. Joe is Vice President and directs the museum, music archives and promotions. He serves as the long-time President of the Cleveland Federation of Lodges of the Slovene National Benefit Society (SNPJ), America's largest Slovenian organization, which operates SNPJ Farm in Kirtland, a summer music destination since 1939.
Joe represents Slovenians in the United States on the international advisory board of Slovenia's Office for Slovenes Abroad. When Slovenia declared independence in 1991, he led the national communications campaign of United Americans for Slovenia to lobby for U. S. recognition.
He considers Slovenians in the U.S. a part of Slovenia's history. His films, lectures and exhibitions document the Slovenian-American experience. Joe has been invited to speak to Slovenian communities in thirteen states, as well as in Slovenia and Slovenian regions of Italy and Austria. He wrote or co-wrote documentaries for RTV Slovenia, notably "Polka! The Movie," about Slovenian music and sausages in America, and "100% Slovenian," stories shared by Slovenian-American women. He directed "Many Voices, One Heart," which profiles his parish of St. Mary of the Assumption in Cleveland's Collinwood neighborhood. He writes English subtitles for films from Slovenia.
His events create connections between countries and cultures, such as the recent jazz concert in the Slovenian Cultural Garden and Slovenian-American authors at Cleveland Public Library with Slovenia's Consulate General in Cleveland. He has been guest curator for exhibitions in Northeast Ohio, Italy and Slovenia. Joe's exhibition on Slovenians in 21st century America for the Archives of Slovenia will soon come to the U.S. He has helped organize appearances by Slovenian artists at Severance Hall, Cleveland State University and Slovenian centers in the area.
Every Saturday, Joe broadcasts in English and Slovenian with music and news from Slovenia at 1:00 on WINT 101.5 FM and 1330 AM, and streaming on 247PolkaHeaven.com. Joe emcees special events, such as Slovenian Independence Day at Cleveland City Hall. He hosted the annual awards ceremony of the Slovenian Academy of Arts and Sciences for Slovenian television.
Cleveland offered the Valencic family a new start after difficult years following World War I in the Slovenian lands. Then as now, more Slovenians lived in the city than anywhere outside of Europe. His parents, Josephine and Joe, raised their children, Mary Ann, Cecilia and Joe, in a bilingual home and encouraged their involvement in Slovenian activities. A summer stay with relatives in Slovenia at age five left a lasting impression upon Joe, as did membership in the Slovenian Junior Chorus, directed by his sister, vocalist and writer Cecilia Dolgan. The family sponsors a voice scholarship at the Cleveland Institute of Music.
Joe attended Collinwood High School and Phillips Andover Academy and holds degrees from Kent State University. As a marketing professional, he worked with Penton Media, Thomson Corporation, and International Management Group, where he promoted the Cleveland Browns, the Cleveland Grand Prix and the Rock & Roll Hall of Fame, as well as personalities and events around the world. At Cleveland State University, Joe was Director of Public Relations and Publications. He began his career as curator of exhibitions at the Western Reserve Historical Society. He served on the executive boards of the International Services Center and the Cleveland Bicentennial Commission, where he co-chaired the committee on communities and neighborhoods.
As a lifelong Clevelander, Joe appreciates how the city offers its diverse communities the opportunities, resources and technology to express and uphold their cultural identities. That's part of the spirit of Cleveland. Joe thanks the Cleveland International Hall of Fame for this honor.
---
Joe Valencic inducted on June 7, 2022
Covid-19 forced the always sold out induction ceremonies to be cancelled in 2020 and 2021. We tried to induct the 2020 class virtually but it was not the same. So once we were able to gather together again, we included the 2020 class in the induction ceremony for the 2022 class on June 7, 2022. The event at Windows on the River was a sell out and the 2020 class finally got their moment in the spotlight.
On the evening of June 7, 2022 Joe was finally honored in person and was inducted by Cleveland City Councilman and fellow Slovenian Mike Polensek. Watch the video of Joe Valencic being inducted into the Cleveland International Hall of Fame by Councilman Mike Polensek.
---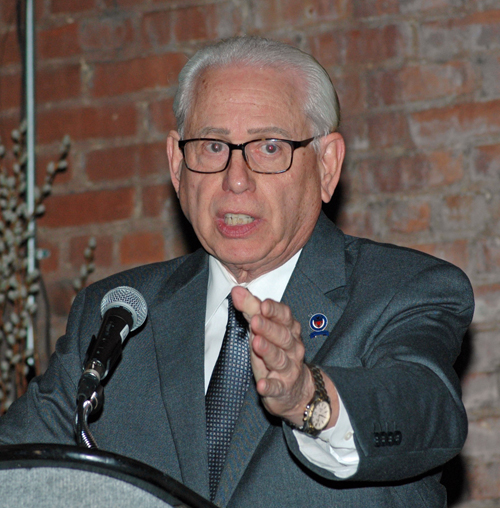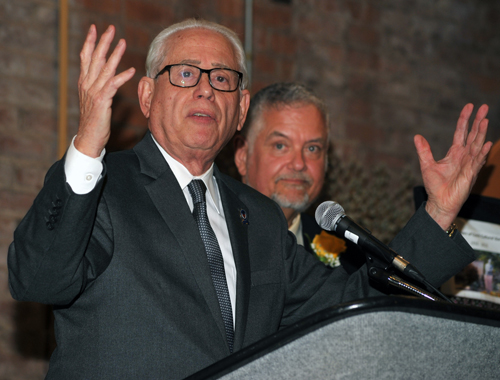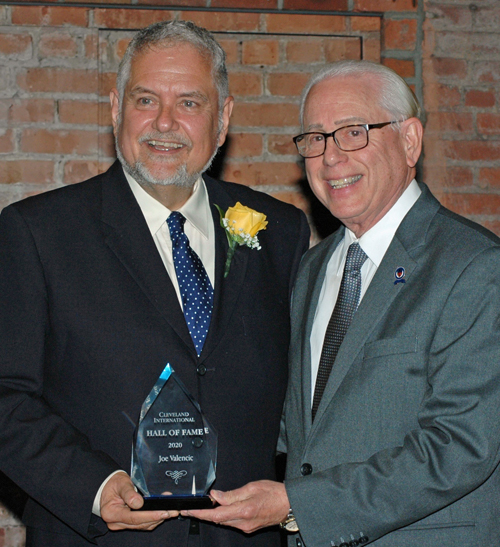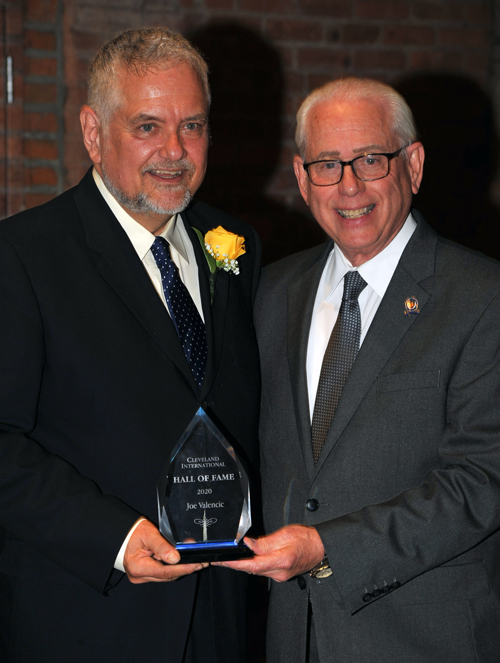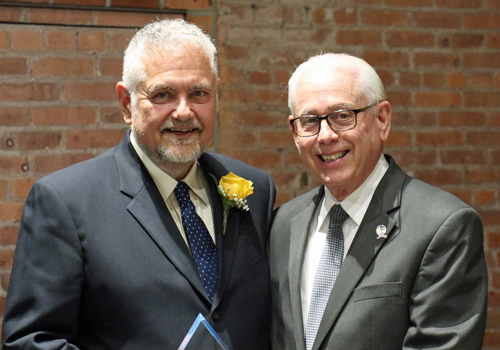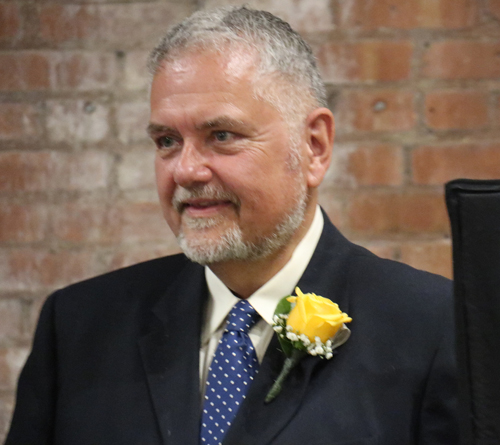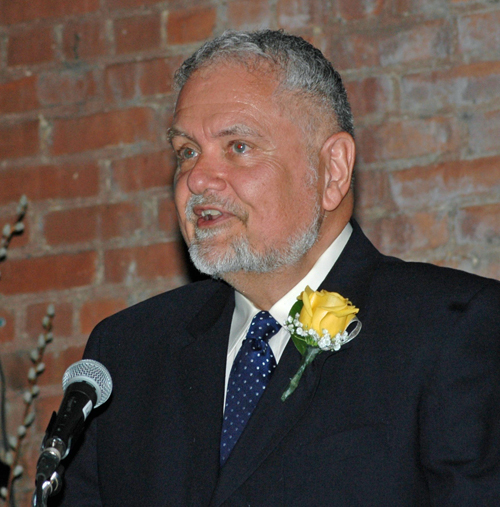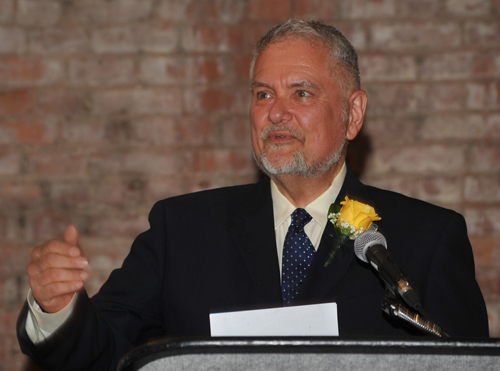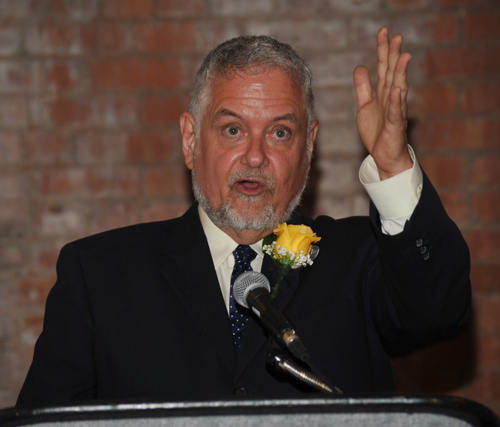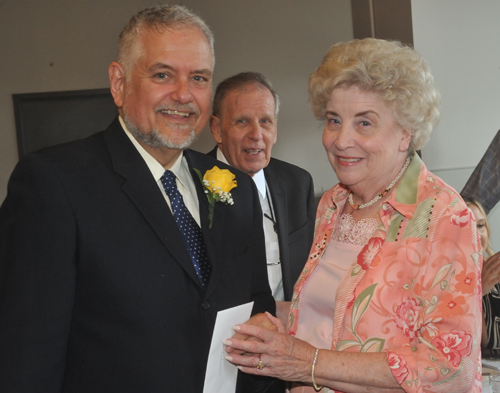 ---
Congratulations Joe!