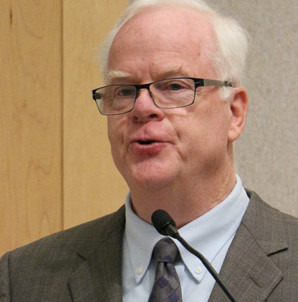 Jim Foster
James H. Foster joined The City Club of Cleveland in 1993, as Managing Director and was named Executive Director July 1, 1994.
Mr. Foster significantly expanded programming initiatives and strengthened City Club television and radio broadcasts, both locally and nationally. He strengthened funding to increase corporate support while maintaining a strong membership base.
A number of new initiatives began under his leadership, most importantly expanding student-oriented programming to enable more high school students to attend Friday Forums and establishing The City Club Youth forum Series. A major accomplishment was a multi-million million dollar renovation of The City Club space that included state-of-the-art broadcast capabilities and equipment.
During his tenure The City Club welcomed to its podium some of the world's most influential leaders, including Presidents Clinton and Bush, Archbishop Desmond Tutu, Irish Prime Minister Enda Kenny, Ambassadors from Saudi Arabia, China, England, Syria, Canada, Israel, Lebanon and many others. Also, numerous U.S. cabinet members and elected officials, and leaders in business, education, science, the arts – approximately 80 programs each year that total more than 1500 speakers during his twenty years. He retired in 2013.
Prior to joining The City Club, Mr. Foster was Vice President of C. K. Newcomb & Associates, an event production firm specializing in large, outdoor activities. In that capacity he co-founded The Cleveland Grand Prix Indy Car race in 1982 and was instrumental in its operation during its three years. He was Assistant Director of the Cleveland National Air Show and managed numerous other air shows around the country.
Earlier in his career, Mr. Foster worked in government and politics as campaign manager for a number of successful county-wide elected office campaigns, and served in various city and county positions. He served as campaign manager for the county-wide domed stadium campaign, an election which lost as a property tax issue but successfully promoted the two new stadia for the Cleveland community which became Progressive Field and Quicken Loans Arena.
For a number of years, Mr. Foster was a mission-ready Air Force pilot, first for the Air National Guard in Mansfield and then for the Air Force Reserves in Youngstown. He has more than 2200 hours in jet fighter aircraft, including the F-84, F-100 and A-37, and was a distinguished graduate of his USAF Pilot Training class.
Mr. Foster earned a Bachelor's Degree in Psychology from Kenyon College. He and his wife Janet have two sons, Andrew and Matthew.
The City Club of Cleveland is the country's oldest and continuous speakers' series. Its Friday Forums attract some of the most influential and informed national and international speakers, and City Club broadcasts are heard on more than 100 radio outlets across the country.