Mona Alag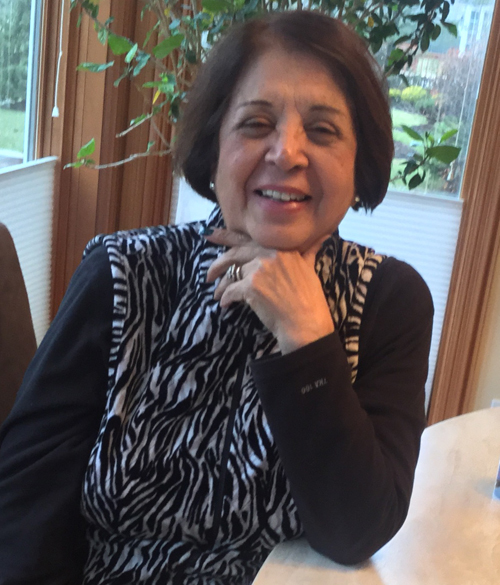 Mona Alag
On a hot August night, the seventeenth day of August, in 1970, as the Air France airliner circled around the boroughs of New York,  a sea of lights glittering and twinkling brought me to the magical land called America.
I was going to be in the land of Elvis Presley, Frank Sinatra and Dean Martin!!
Of course I was going to meet them, but of course I was. And all the imported perfumes etc. were all waiting for me! Those were the thoughts foremost in my mind.
And sure, there was a husband of three months anxiously waiting, sure! As we landed in Cleveland, I knew I was home. There was just something about it, I knew I was home.
Doing everything myself, was a rude awakening for me! As they say, it starts when you sink in his arms,  and you wake up with your arms in the sink. But it was all good.
In just about a couple of months, a friend confided in me that she was pregnant. The unfortunate thing was her husband didn't want to be a father yet…or ever. She wanted me to help her find a solution. She of course wanted the baby. I was a twenty three year old who had come from an insulated background, no idea at all about the real problems that real people face.
A painful two days of thinking about it, (I couldn't tell my husband)  I questioned her on "Why did you ask me to help you?" You have family here; her answer stays with me even today. "You are easy to talk to, and I feel I can trust you to understand"
Ok, so that was the end of the discussion.
Well, today her triplet daughters are all grown, married and moms themselves. They all live overseas, don't know me. Their father of course severed all ties with us. After helping my friend, I realized how fulfilling an experience it was. Almost a spiritual high.
From that day, till today, there have been so many instances; it is hard to keep count.
There were some calls from young girls, who were facing issues. Children, unhappy with rules in their homes. Difficult problems for the families going thru them.
In my first stint with FICA, I focused on the problems of the youth of our community. The lack of communication/ understanding between the two generations was growing. Along with the teenage children of our community, we organized a couple of workshops/ seminars promoting understanding between both generations.
I remember meeting one mom at a restaurant. She came up to me and said" stop instigating my daughter" Then came Association of Asia Indian Women of Ohio.
Being a founding member, I was only interested in starting a Helpline. We had on our list of advisors, a lawyer, an obgyn, a social worker among others. I recall calls at two in the morning. I would lock myself in the bathroom to talk. This was to insure anonymity/ confidentiality of the caller. That is fortunately still in existence.
I was also fortunate enough to be a part of Project Seva, since its inception some 30 years ago. It is the service arm of FICA. We serve meals at are churches, distribute blankets and hygiene packages to the homeless shelters in Cleveland. The moms of our community have knit blankets for Rainbow Babies and Children Hospital. We also serve a home cooked meal to the residents of Ronald McDonald House twice a year.
Being an Ambassador for ClevelandPeople.Com Dan keeps me busy with people coming into Cleveland and making them fell welcome and helping them settle..
A few years ago along with Doctors Jaya Shah and Gita Gidwani, we formed another
Informal venture Helping Hands.
At times we partner with Sewa International, an organization, with a very active chapter in Cleveland. This has been the most fulfilling, yet most challenging task of all times. From domestic violence, immigration, praying with terminally patients, arranging for food stamps, advice from legal standpoints, up to and including temporary housing for victims of  domestic violence. These experiences have also given us information that we never had before. The various agencies we can tap into for relevant issues.
I would like to conclude with the reason behind my passion for anonymous community service. My faith. Sikhism. It not only teaches us the value of a spiritual life, sharing with others what God has blessed us with, and promotes selfless service to mankind.
In the words of Mahatma Gandhi
"The best way to find yourself, is to lose yourself in the service of others"
---
Sudarshan Sathe inducted Mona Alag into the Cleveland International Hall of Fame.  In her acceptance speech, Mona spoke about her life of service.  Click on the white arrow below to watch the video of Mona Alag's induction.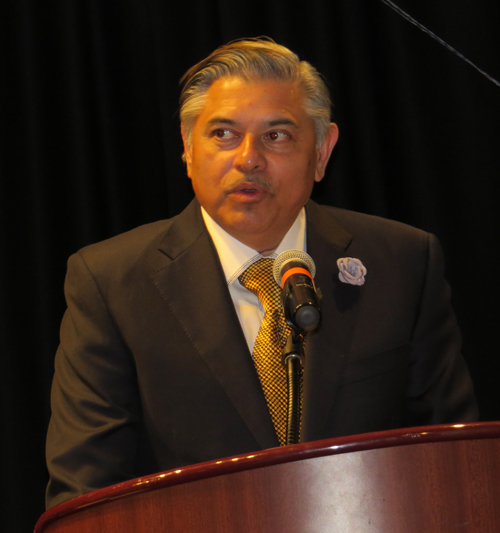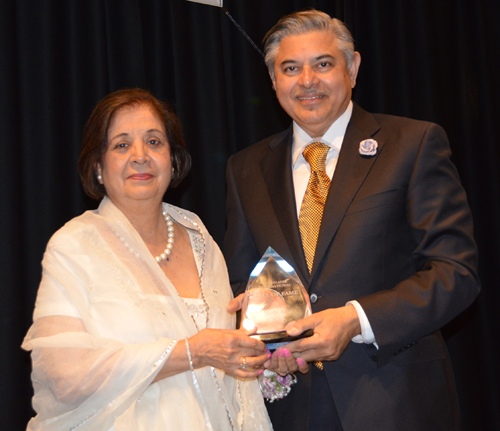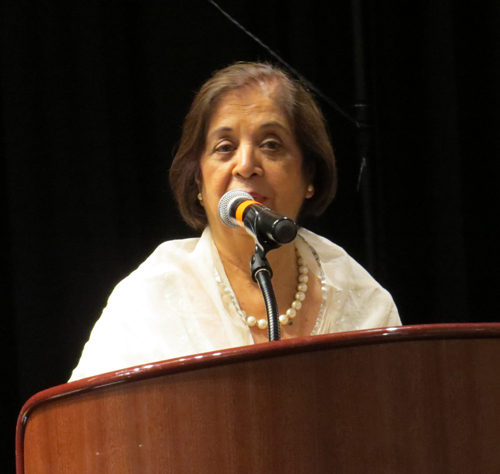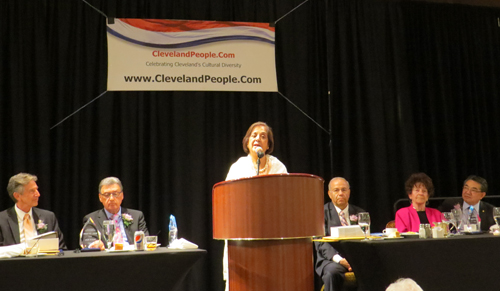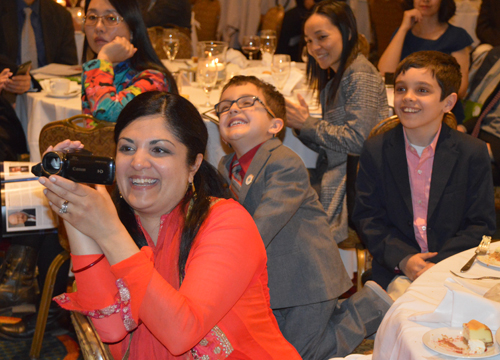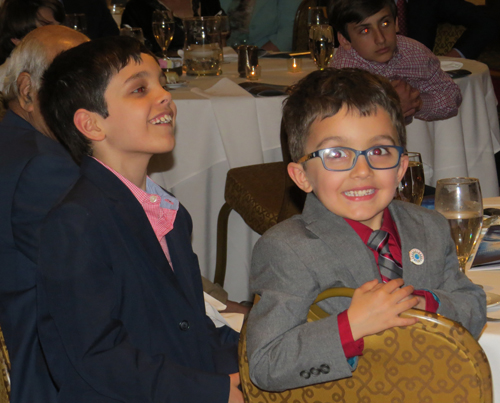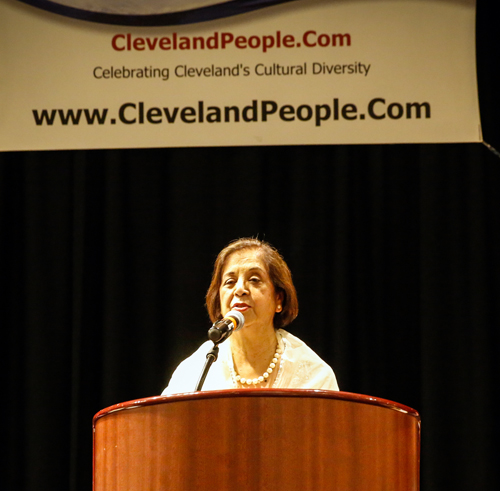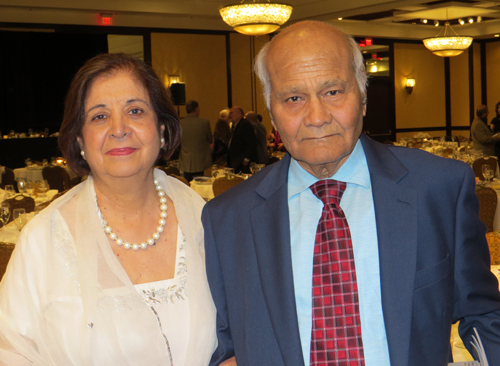 See more from the 2017 Cleveland International Hall of Fame inductions (including some of the 500 attendees)