Wael Khoury,M.D.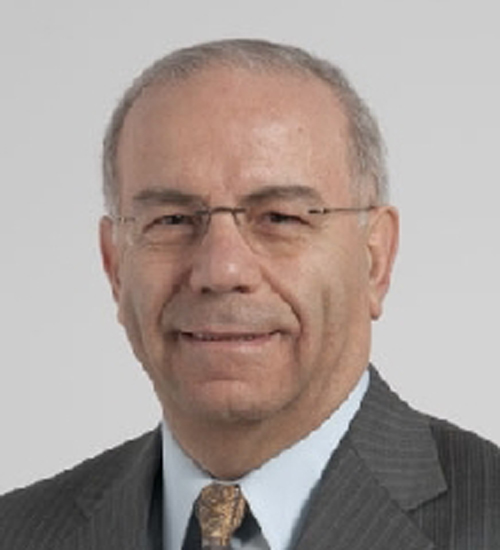 Wael Khoury,M.D.
Wael Khoury,M.D., is the Head of Cardiology at Marymount Hospital. His impressive Curriculum Vitae follows.
Education:
Medical School: University of Damascus, 1975
Internal medicine Residency, Huron and St. Luke's Hospitals, Cleveland Ohio, 1976-1979
Cardiology fellowship, Case Western Reserve University Hospitals, Cleveland, Ohio. 1979-1981
Board Certified in Internal Medicine and Cardiology, 1982
Fellow, American College of Cardiology, 1982- Present
Academic – Professional Positions:
Cleveland Clinic Cardiology Staff, 2013-Present
Consultant  Faculty, Cleveland Clinic, 2000- 2013
President, Cardiology Associates of Cleveland, 1981-2013
Head of Cardiology, Marymount Hospital, Cleveland Ohio, 1982- Present
Director of Cath Lab and CHF Clinic, Marymount Hospital, 1990- Present
Marymount Hospital, Chief of Staff 1993-95, V.P. of Medical Affairs 1995-2001
Member, MEC Advisory Council, Cleveland Clinic Health System, 1996- Present
Medical director, Clinical Research Office, Cleveland Clinic Health System, Eastern Region, 2002- 2011
Principal Investigator, Several Cardiology Research projects, 2005-2013
Organizational Positions:
1st Vice president, Cleveland American Middle East Organization (CAMEO), 1981-83
Board Member, American Heart Association, Cleveland Chapter, 1993-1997
Board Member, Council on World Affairs, Cleveland Ohio, 1998- Present
Chairman of the Board, Cleveland Council on World Affairs, 2012-2015. 2016- Present
Member, Cleveland Committee on Foreign Relations, 1998- Present
Advisory Board Member, Arab American Anti Discrimination Committee, ADC, Washington, D.C. 2002- Present
President, National Arab American Medical Association, Ohio Chapter, 1996-1997
National Arab American Medical Association ( NAAMA ), Chairman of the cultural committee and the Syrian Liaison committee, in the 1990`s. Hosted leading Arab poets and musicians in Cleveland.
NAAMA`s Secretary, 1998, Vice President, 1999, President Elect, 2000, National President, 2001
Board Member, National Arab American Medical Association Foundation, 2002-2005
Active and Leading role in numerous medical conventions, seminars, workshops in Syria and other Arab countries 1980`s- 2005
Member, Community Outreach committee, The Cleveland Orchestra, 2010- Present Member, International Cleveland Community Advisory Committee, Cleveland Museum of Art, 2011- Present.
Founding President, Syrian American Cultural Council, 2005-Present.
Chairman of the Syrian Cultural Garden project, Cleveland, Ohio, 2008- Present.
President of the Cleveland Cultural Gardens Federation,  Beginning April 2017
---
Dr. Nizar Zein inducted Dr. Wael Khoury into the Cleveland International Hall of Fame. In his acceptance speech, Dr. Khoury spoke of the hard times in Syria. Click on the white arrow below to watch the video of Wael Khoury's induction.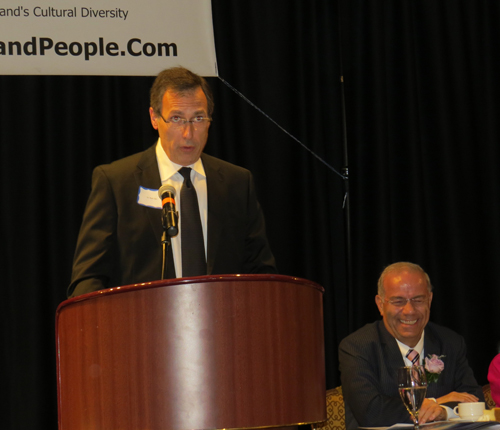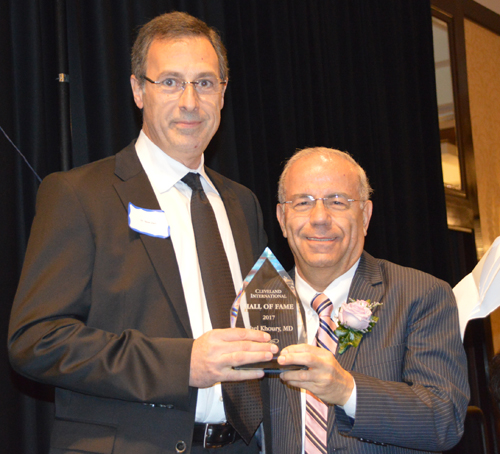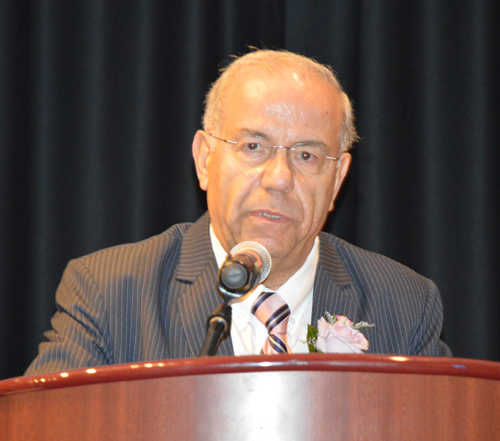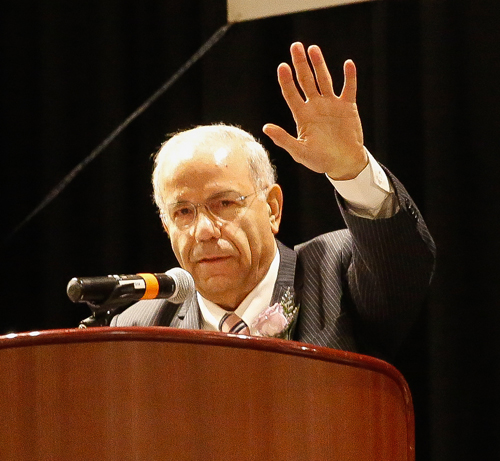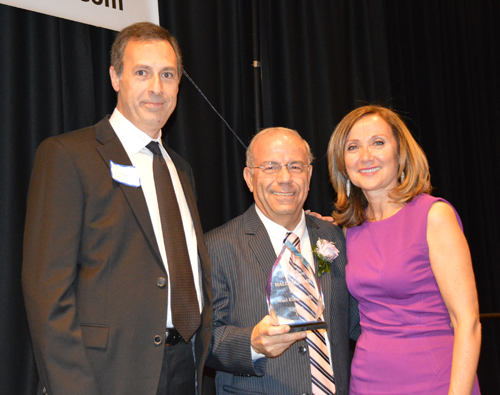 See more from the 2017 Cleveland International Hall of Fame inductions (including some of the 500 attendees)