Abdullah (Abby) Mina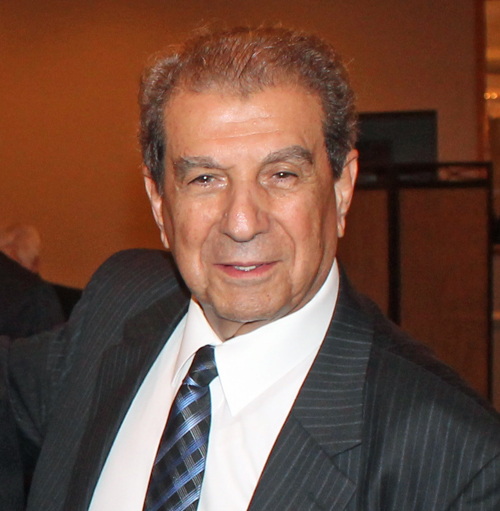 The induction speeches for Abdullah (Abby) Mina were given
by his son Michael Mina and Pierre Bejjani.
Click on the white arrow in the images below to watch videos of the speeches.
Then, click the icon in the lower right to make it full screen.
---
---
Watch Abby's acceptance speech.
---
Enjoy these other images from Abdullah (Abby) Mina's induction into the Cleveland International Hall of Fame.  Scroll down to read his bio.

Abdullah (Abby) Mina inducted into the 2018 class of the
Cleveland International Hall of Fame by his son Michael Mina.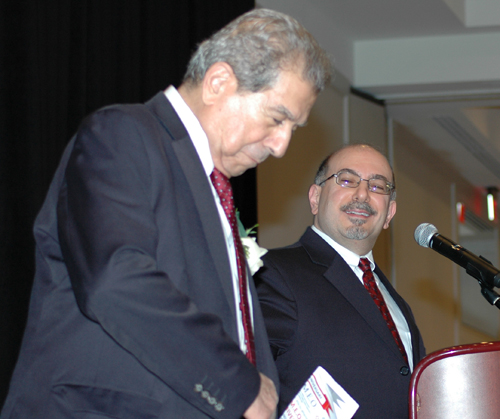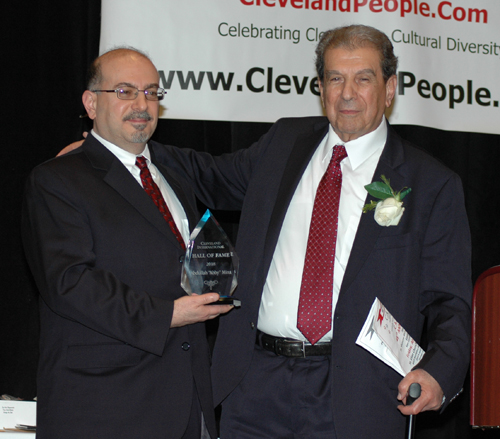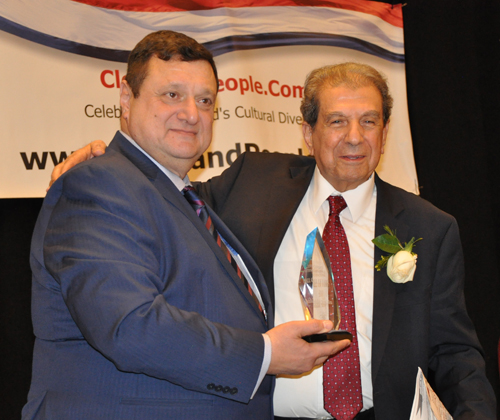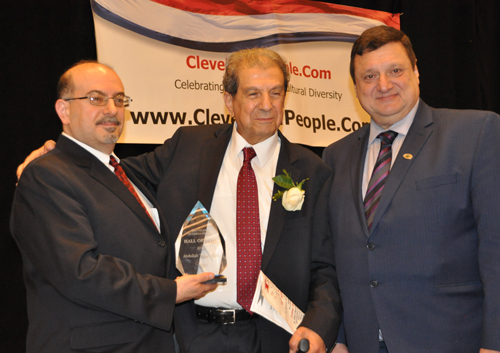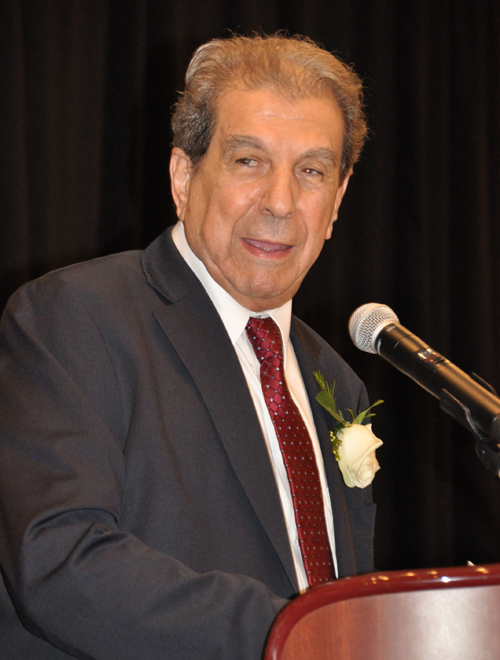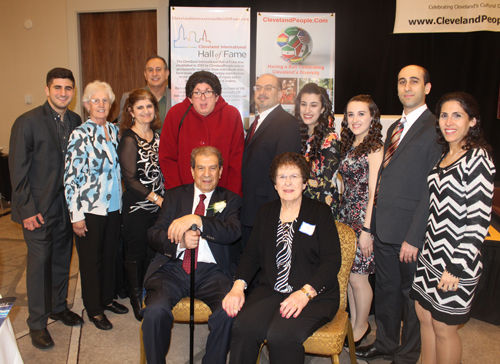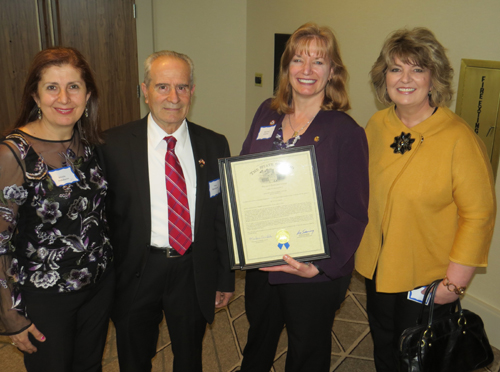 Congratulations Abby
---
Abdullah (Abby) Mina
Mr. Abdullah Mina is of great service to the Arab American Community in Cleveland in many ways.
He was the longest serving president of the 45 year old Cleveland American Middle East organization (CAMEO). After retiring from the presidency several years ago, he continues to serve as a member of its board of trustees.
Mr. Mina served on several boards such as the International Services Center at the Arab American Center for economic and social services in Ohio (ACCESS). Currently he served as a president of the Advisory Council of Saint Elias Melkite Greek Catholic Church in Cleveland.
He is well known as the host and producer of the local weekly Arabic Radio Program which can be heard every Saturday from 6:00 to 8:00 p.m. on 89-3 FM. In 1998, he was recognized with a Citation by the Immigration and Naturalization Services (INS) for assisting many new immigrants, both personally and through his radio program. In 2004, he was appointed as a Cuyahoga County grand-jury Foreman.
He received many proclamations and citations from government agencies and Arab American Institute in Washington DC. In 2010, he was honored by the US Census Bureau for his work in their outreach program. In 2015, Mr. Mina was honored by the Northern Ohio Lebanese American Association (NOLAA) for his lifelong achievement in preserving the Lebanese culture.
In addition, for his perpetuating and enriching the Lebanese culture and working tirelessly to promote understanding among the various communities in Cleveland, the American Nationalities Movement presented him with the Freedom Award in July 2015.
Abby is described as a family man, educated, marketing consultant, advocate, and radio personality. Through the years, he helped many people to fill out many of the official forms and translate documents needed for immigration purposes. He has done interpretations in the immigration courts both in Cleveland and Cincinnati. Over the thirty years span, it is estimated that he filled out and translated about a thousand forms and documents without accepting any remuneration.
One of his fondest memories is meeting King Hussein of Jordan on his visit to Williamsburg, Virginia and he was invited to personally meet the late King Khaled of Saudi Arabia on his visit to Cleveland.
Arriving in Cleveland in the mid-1960s,  Abdullah entered the insurance business. He is retired marketing consultant from Blue Cross and Blue Sheet of Ohio. While there, he won numerous awards for his sales achievements.
In college, he was known for his activities in student government. He obtained his Bachelor of Arts Degree in History and Political Science from the University of Richmond Virginia. Abdullah Mina served as president of the History Society and Philologian Literary Society. He was appointed editor-in-chief of the University's Literary Magazine (Messenger), the first such honor for a foreign student in any Virginia University or College. Two cedars of Lebanon trees were planted in his honor on the University's campus.
Abdullah Mina is seventh child of eleven born to Michael and Labiba Mina in the small town of Kefraya, located in the West Bekaa Valley. His primary and secondary education was completed in a variety of Islamic, Catholic, Protestant and Secular Schools. Abby and his wife Mona have two children and three grand-children in addition to family and friends he enjoys classical and Arabic music and Arabic Poetry.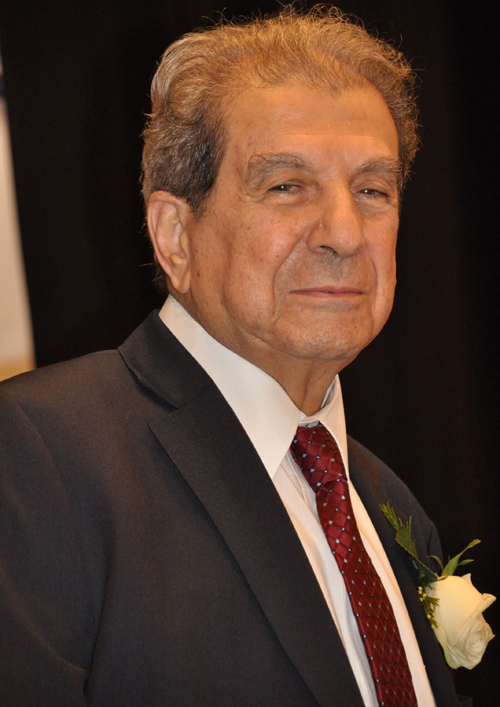 See more from the 2018 Cleveland International Hall of Fame induction ceremony
---