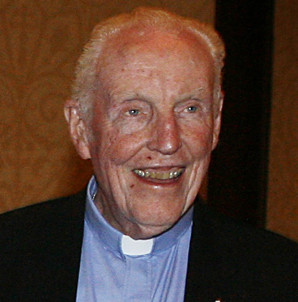 Fr. Jim O'Donnell
Fr. Jim O'Donnell was ordained a priest in 1956 in the Diocese of Cleveland. His spiritual journey has led him through parish work at St. Colman's Church in Cleveland and St. Mary's Church in Avon.
He served as the director of CYO for several years. For six weeks in 1974 he worked in India with Mother Teresa.
Today and for the past 32 years, Fr. Jim lives and works in the inner-city Central neighborhood in Cleveland, OH. He, along with Maggie Walsh-Conrad, formed the Community of the Little Brothers and Sisters of the Eucharist, to provide a ministry of presence to the poor of the neighborhood.
The Community was instrumental in bringing Habitat for Humanity to the Central neighborhood which sparked a transformation of the area to include nearly 600 new homes.
Fr. Jim is also the Catholic Chaplain to the Northeast Prerelease Prison for Women.