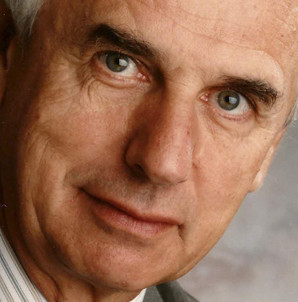 Eugene Bak
Gene Bak was born in Poland. In February 1940 the Soviets deported his entire village, including his family to Siberia. His family escaped from Siberia in 1942 and went to Uzbekistan where his father joined the Polish Army in Exile. The army and their civilian families were evacuated from the Soviet Union to Iran in August 1942.
As a young child Gene spent five years in Polish refugee camps in Iran, Pakistan, and India. He joined his father in England after the war in 1947. While in England he attended Polish secondary schools there. Gene and his family immigrated to the United States in 1952.
Gene graduated from St. John Cantius High School in Cleveland in 1952 and enrolled at Ohio State University to study chemical engineering. He graduated from Ohio State in 1957 with Bachelor of Chemical Engineering degree and in 1967 he obtained Masters in Business Administration from Seton Hall University. He also attended business programs at University of Michigan, Harvard University, and Syracuse University. Gene is a Registered Professional Engineer in the States of Ohio, New Jersey and Pennsylvania.
Gene spent his entire professional career in the chemical industry beginning with Diamond Shamrock where he started as a chemical engineer advancing to a number of supervisory positions. He joined Mooney Chemicals in 1970 as plant manager at its Franklin, Pa facility. He was promoted to Vice President of Operations in 1974.
Mooney Chemicals merged with Outokumpu OY, a Finnish firm, to form OMG and Gene was named the President of the Mooney Chemicals Division. He became President and Chief Operating Officer of OMG in 1994 and was elected to the Board of Directors of OMG in 1995. Gene retired in 1999.
Gene has been active in civic work his entire adult life. While living in Pennsylvania he served on the Franklin Area School Board, Northwest Pennsylvania Planning Commission, Venango County Industrial Development Board, Hospital Foundation and Advisory Board of the Exchange Bank. He was also a Co-Chairman of United Way Campaign.
In 1982, when the Communist government declared martial law in Poland Gene helped Americares Foundation raise funds to deliver medicines and medical supplies to people in Poland. He accompanied the first shipment to Poland to ensure the medicines were distributed to the Polish people as intended.
Since his retirement Gene has authored his autobiography which was published by Columbia University Press in 2002 and the Polish version in Poland in 2013. He is one of the founders of the Polish American Cultural Center named in honor of Pope John Paul II, a creator of the Polish museum and is now leading the creation of Polish Heritage Garden next to the museum.
Presently Gene serves as the Executive Director of the Polish American Cultural Center. Gene's passion is fostering Polish culture, history and traditions. However, he is also proud of the fact that the Polish American Cultural Center has reached out to other ethnic groups here in Cleveland to benefit from their diversity.
Gene serves as President of the Opera Circle; is a past member of the Board of Trustees of Cleveland Society of Poles; a member of St. John Cantius Church Finance Board, Advisory Board of Marymount Hospital, Kosciuszko Foundation, Polonia Foundation and a number of professional organizations. He is also involved in helping children in Poland by raising funds for such charitable organizations as Laski Institute for the Blind and Polish Children's Heartline Foundation.
Gene has received numerous awards for his civic work, with the most prestigious being the Order of Merit of the Republic of Poland bestowed on him in 2006 by Lech Kaczynski the President of Poland.
Gene is married to Barbara and they have three children and six grandchildren.