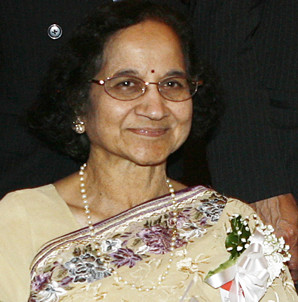 Dr. Jaya Shah
Dr. Shah, a Pediatrician practicing for more than 30 years, retired from active practice in 2007. She graduated from Grant Medical College, Mumbai, India.
Her passion for life is to help the Poor & Needy whose minimal, basic needs in health care are not met. She works as a volunteer pediatrician at the Painesville Free-Clinic. She has worked in 27 different Medical Camps, in 10 different countries and 7 different states of India.
As a Missionary Physician Dr. Shah has traveled to: Mexico, Haiti, Dominican Republic, Uganda, Kenya & India. In India, she has traveled to; Kerala, Tamilnadu, Orissa, Rajsthan, Gujarat and Uttarkhand.
She is the Chairperson of the Association of Indian Physicians of Northern Ohio (AIPNO) – Humanitarian Services committee. With support & help from her husband, Ramesh Shah, she takes the team of 18-20 Physicians and 10-12 Volunteers from USA/UK/Canada to Indian Rural Villages and helps thousands of villagers who cannot afford good Medical help and/or who do not have access to good Professional Healthcare providers. The program is known as Medical YATRA (website: www.medicalyatra.com). Through this program, their YATRA TEAM has helped more than 100,000 rural villagers in the last 7 years.
Dr. Shah has taken a team of Physicians to help in Disasters such as: Gujarat Earthquake 2001, Tsunami-2005, Hurricane Katrina-USA, Hurricane Isabella-Mexico and Haiti earthquake-2010.
In the Medical Camps, they provide primary care for immediate relief and free medicine. They also raise funds to provide necessary surgeries the patients cannot afford and cataract surgeries to restore vision "Gift of Sight". In 2007-8-9, they also arranged "Gift of Heart" camp in India with support from Medtronics and St. Jude to provide pacemakers, stents and valves at Mahavira heart institute in Surat in Gujarat.
Dr. Shah accompanied an American Red Cross team as a delegate to Kenya in the 'eradicate measles' initiative.
As a Community Activist, she with the help of Mona Alag, Gita Gidwani, Kamala Nagpal, Sayanies organized a Voluntary organization known as Community Helping Hands Organization. This group has provided professional networking resources to help the Indian Community in Greater Cleveland facing various issues such as domestic violence, family fights, medical needs, terminally ill people, emergency deportation, new immigrants, students and legal problems etc. They have more than 50 volunteers spread out in suburbs in the Greater Cleveland area
She and her husband are Rotarians and were able to get grants through Rotary for the medical camps in India for the last 3 years.