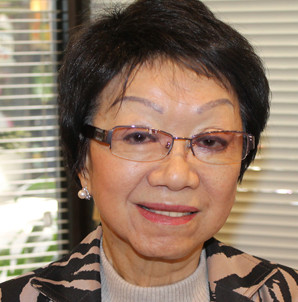 Donna Hom
Donna was born in Guangdong province in southern China. She married her husband Willie Hom in 1960 and emigrated to the U.S. (settling in Youngstown, Ohio).
After arriving in the U.S., she had four sons and saw the need to earn more money to support her family. In the 1960s, she worked as a waitress at her mother-in-law's Chinese restaurant (called Ding Ho) in Youngstown and at Perkins Pancake House in Austintown. As the economy in Youngstown deteriorated in the late 1960s, Willie and she realized that the family would need to move to a larger city in order to economically survive.
In 1970, they moved the family to Fairview Park. She worked at two west side Chinese restaurants as a waitress. Then in 1973, they opened their first Chinese restaurant, King Wah, in Rocky River across from Westgate Mall. The location was originally a dark biker bar, but they turned it into a Chinese restaurant after extensive remodeling. As business grew, they expanded the restaurant to accommodate more patrons.
Then they bought the building housing King Wah in 1977. In 1979, she bought an east side Chinese restaurant (located at LaPlace Mall in Beachwood) called Ho Ho and renamed it Ho Wah. The east side restaurant was an immediate success.
By the 1980s, the taste of American customers for Chinese food began to change. Customers were becoming tired of Cantonese-style/Americanized Chinese food (for example, egg foo yung or chicken chow mein). So Donna began to include in the menus Chinese dishes from other parts of China, such as Szechwan, Mandarin and Hunan dishes (for example, Kung Pao chicken).
In the mid-1980s, many Chinese-Americans in Cleveland dreamed of building a Chinatown on Payne Avenue and Superior Avenue that would be comparable to ones in Toronto and New York City and that would attract Asian investment to Northeast Ohio. In 1988, Willie and Donna decided to get involved in the development of a Cleveland Chinatown.
They purchased an old warehouse at the northwest corner of Payne Avenue and East 30th Street and began to develop Asia Plaza Mall under the supervision of their son, Stephen. In May 1991, they opened Li Wah Restaurant at Asia Plaza.
Li Wah was designed for Asian customers by serving authentic Chinese dishes and dim sum. Many small shops also opened at Asia Plaza. Willie passed away in September 1991.
In 2004, Donna purchased the old Cleveland Food Bank building, connected it to Asia Plaza Mall, and remodeled the building under Stephen's supervision. Most of the Cleveland Food Bank building was rented to an Asian grocery store.
Donna's dream is to create a vibrant Asian community in the East 30th Street and Payne Avenue area. Since 1988, dozens of new Asian businesses have been established from East 30th to East 55th Street on Superior Avenue and Payne Avenue.
In 2010, Donna opened up Asia Plaza Mall for the annual Cleveland Asian Festival, which is held on the third weekend of May each year.