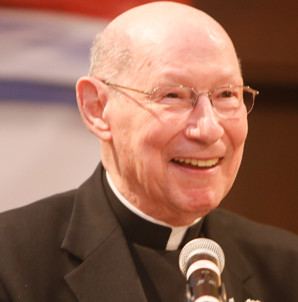 Bishop A. Edward Pevec
The Most Reverend (Anthony) Edward Pevec was born in Cleveland, OH on April 16,1925. He was ordained a Priest on April 29,1950 and ordained a Bishop on July 2,1982.
He was installed Vicar of Eastern Region July 20,1982 and retired April 3, 2001.
He attended St. Vitus Elementary School and then Cathedral Latin High School. He went on to Sacred Heart Seminary, Detroit, MI and then St. Mary Seminary for his Cleveland Ordination. He received a Master of Arts degree from John Carroll University and a Ph.D. in 1964 from Western Reserve University.
He was assigned to St. Mary Church, Elyria, OH, Associate Pastor: 1950-1952, St. Lawrence Church, Cleveland, OH, Associate Pastor: 1952-1953, Borromeo Seminary High School, Wickliffe, OH: 1953-1975, Teacher, Assistant Principal and Vice-Rector, Principal and Rector St. John College, Cleveland, OH, Graduate School Instructor: 1964-1973, St. Vitus Church, Cleveland, OH, Pastor: 1975-1979, Borromeo College of Ohio, Wickliffe, OH, Rector-President: 1979-1982.
Bishop Pevec served on:
• Priests' Committee for Promotion of Vocations Clergy Relations Board
• Clergy Personnel Board Task Force on Catholic Secondary Education
• NCEA Executive Committee Committee on Evaluation of Seminaries
• Catholic Conference of Ohio
• United States Conference of Catholic Bishops Committee on Vocations Committee on Pro-Life Activities
• Committee on Science and Human Values for the State of Ohio
• State Chaplain, Catholic Order of Foresters
• State Chaplain, Knights of Columbus.
Among his many well-deserved honors are:
• Slovenian Man of the Year
• St. Vitus Hall of Fame
• Wickliffe Man of the Year
• Knights of Columbus Catholic Man of the Year
• Cathedral Latin Alumni Association Man of the Year
• John Carroll Alumni Honoree