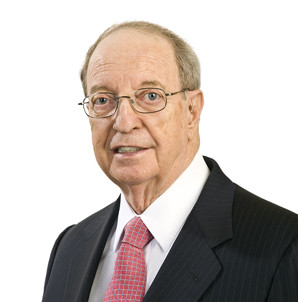 Albert B. Ratner
Albert B. Ratner is co-chairman of the board of Forest City Enterprises, Inc.
He has been in the commercial and residential real estate industry with Forest City since 1951. Ratner is well known as a long time community booster for Cleveland and a leader in its Jewish community. He is a life trustee of the Cleveland Jewish Community Federation and a member of the International Council of the American Jewish Joint Distribution Committee.
In the company's hometown of Cleveland, Ratner was the driving force behind Forest City's dramatic redevelopment of the Terminal Tower and the former Union Terminal into Tower City Center, a mixed-use complex with a multi-floor mall, office space and hotel. That project, which was completed in 1990, is widely regarded as the catalyst for the rebirth of downtown Cleveland throughout the 1990s.
Ratner has always been involved in local activities. He is currently an honorary trustee of Shoes & Clothes for Kids and is on the advisory committee of the Rock and Roll Hall of Fame and Foundation. In the past, Ratner has served as a board member for civic groups, including the Cleveland Initiative for Education, the Greater Cleveland Partnership and the United Way. He has also served on corporate boards for American Greetings and RPM, Inc.
Nationally, he is on the board of governors of the Henry M. Jackson Foundation and is an honorary trustee of the Enterprise Foundation. He also serves on the Board of Trustees for the United Jewish Communities.
Ratner is a graduate of Michigan State University, with a degree in forestry. He also holds an honorary doctor of laws degree from Long Island University and an honorary doctor of engineering degree from Polytechnic University, both in Brooklyn, N.Y. He is an adjunct visiting professor for the Michigan State University Land Policy Institute.